Low Cost Protein Production Training Workshop
The Low Cost Protein Production Training Workshop is co-organized by Kumasi Hive, Kwame Nkrumah University of Science and Technology (KNUST), and Open Bioeconomy Lab, University of Cambridge with support from the Shuttleworth foundation. The Open Enzyme Project funded by Shuttleworth Foundation through the Open Bioeconomy and partners seek to address the challenge of reagent accessibility in low-resource settings among local researchers by reducing the prohibitive high cost of reagent through the local biomanufacturing of enzymes for molecular biology applications.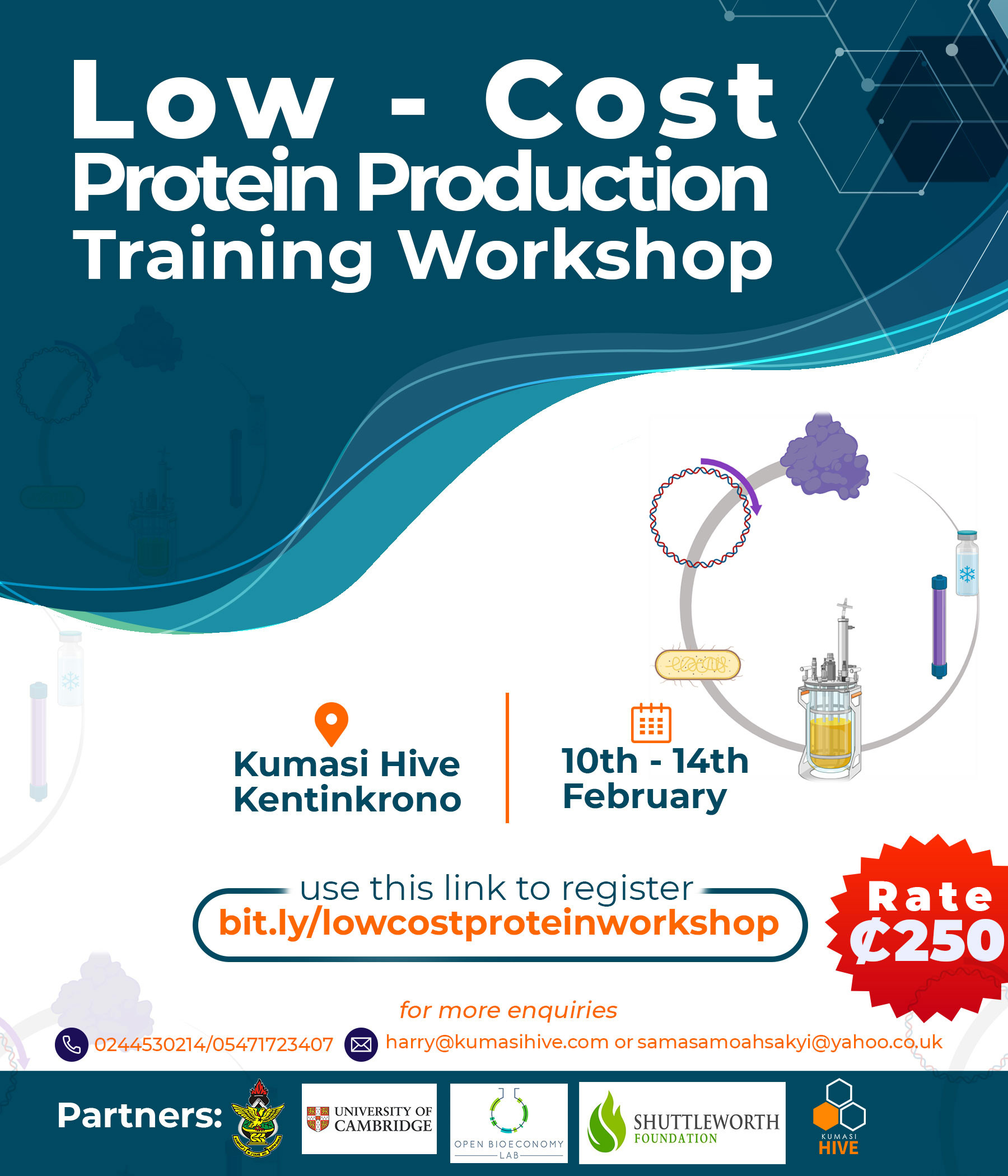 The workshop will provide participants with hands-on cutting-edge molecular laboratory techniques prerequisite for protein production and biomanufacturing and lecture sessions to create capacity for local researchers and graduate students. Participants will join a UK-Ghana network of experts on the topic to learn molecular techniques in protein biomanufacturing. We're looking for postgraduate students, postdoc, early-middle-career faculty and researchers who are actively studying or conducting research leveraging molecular techniques as a methodology in an academic/research institution in Ghana. We request that you only apply if you are willing to commit to the entire one week of intensive training and make a payment of GHC 250 for course material, lunch, snacks and certificate of participation (Payments will be done during registration on day one).
The deadline for application is February 1, 2020 and acceptance and invitation will be issued on February 4, 2020. We have 15 places for the workshop and aim to best represent the diversity of participants using any of the molecular techniques in their research or for academic purposes. The one week workshop will consist of a theoritical and a practical skill module.
Knowledge module
Introduction to synthetic biology
Bacteria as hosts for recombinant protein expression
Primer Design
Plasmid cloning
Preparation of competent cells
DNA assembly methods
Biosafety, ethics and IPR in Biotechnology
Protein expression and purification
Analyzing and characterizing expressed
 
Skills module
Low-cost DNA extraction
Recombinant protein production using bacteria
Gel electrophoresis/SDS-PAGE
Plasmid Cloning
Competent cell and media preparation
Bacteria Transformation
Periplasmic purification
Lyophilization using silica
Quality assurance assays for DNA
What you should know about the workshop
The training workshop comprises one week of hands-on practical and lecture sessions on protein production and biomanufacturing.
The course starts from Monday 10th February to Friday 14th February, 2020 from 9:00 am to 5:00 pm each day.
Lunch and snacks will be provided for participants.
The workshop will take place at the Hive Biolab & Department of Molecular Medicine, KNUST
Certificates will be given at the end of the workshop and the requirement for getting one is to have attended least 90% of the workshop and completed 100% of assignments
Eligibility
Postgraduate students, postdoc, early-middle-career faculty and researchers.
Be available to attend all sessions of the workshop. Partial participation will not be allowed.
Be working in any academic/research institution in Ghana.
To register for the workshop use the link: http://bit.ly/lowcostproteinworkshop. For further enquiries or information on Workshop, you may contact the workshop coordinators: Dr. Samuel Asamoah Sakyi and Harry Akligoh. Email: samasamoahsakyi@yahoo.co.uk; harry@kumasihive.
com. Mobile: 0547172342, 0244530214