CALL FOR APPLICATION - THREE MONTHS RESEARCH STAY IN GERMANY, 2021
Tue 26 Oct 2021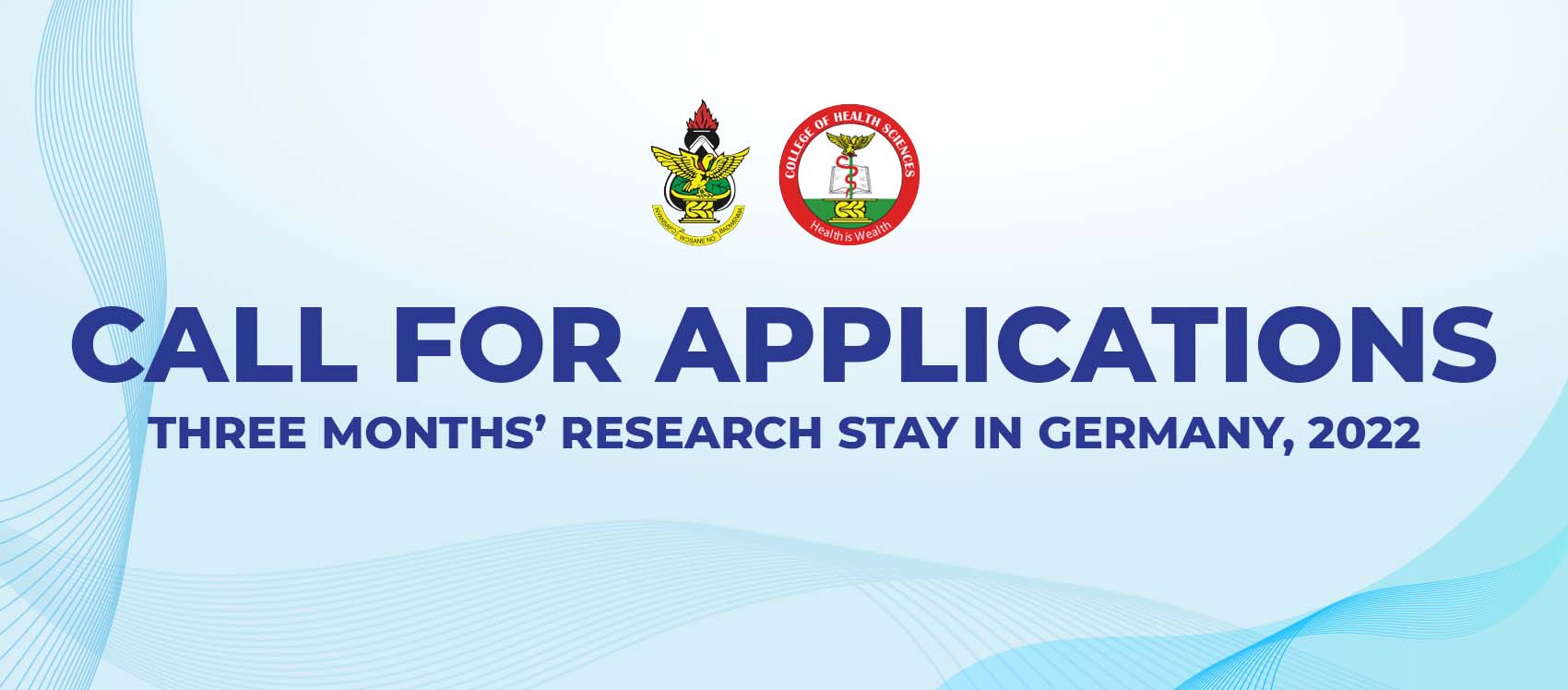 Background
The newly established German-West African Centre (G-WAC) for Global Health and Pandemic Prevention at the KNUST College of Health Sciences is awarding a total of 10 scholarships for three months research stay in Germany (Berlin and Bonn). The scholarships are open to postgraduate students (i.e. Master/PhD) from the Faculty of Allied Health Sciences, School of Medicine and Dentistry, School of Public Health, and School of Veterinary Medicine.
About G-WAC:    
The German-West African Centre (G-WAC) for Global Health and Pandemic Prevention was established in May 2021 at the KNUST College of Health Sciences in Kumasi and in collaboration with the Berlin University Alliance and Bonn University, both in Germany. As a Centre of Excellence in the African Region, the aim of G-WAC is to address the existential threat of global pandemics to the health and welfare of people, through trans- and inter-disciplinary research projects. The research activities of G-WAC target both the main drivers of pandemics (e.g. health impact of wild habitat encroachment, extensive agriculture and climate change, transfer of pathogens from wild animals to humans) and the key pillars of resilient health systems in the WHO framework (e.g. effective governance, sustainable financing mechanisms, appropriate human resource capacity, availability of essential medicines and technology, reliable health information, and responsive health service delivery), using One Health approaches.
Eligibility:    
Applications are hereby invited from postgraduate students (Master/PhD level) who have:
fully completed course work/taught courses (i.e. year 1) of their Master/PhD programmes within the College of Health Sciences, KNUST.
good academic records
ability to conduct independent scientific research
ability to establish and maintain effective working relationships with people of diverse backgrounds
Applications by eligible female students are highly encouraged.
G-WAC is offering scholarships (covering travel costs and a monthly stipend) to 10 selected Master and PhD students to embark on a three-month study visit to Germany for research project work activities and exchanges hosted by the partnering institutions in Berlin and Bonn leading to writing and completion of a thesis or its equivalent academic research paper in the following thematic areas:
Bacteriology & Parasitology
Community Engagement & Social Sciences
Epidemiology and Surveillance
Digital health
Health Systems & Health Economics
Virology and Diagnostics
Zoonoses
Schedule:
Application deadline:  10th November 2021
Selection results:        30th November 2021
Start date:                   10th January 2022
Application Process:    
Please submit a Cover Letter/Letter of Motivation, CV and thesis proposal (not more than 5 pages) all as a single pdf file via email using the subject "G-WAC RESEARCH STAY GERMANY" to info.gwac@knust.edu.gh  or call on 050 420 8691 / 024 340 9559.
Funding Support:
G-WAC is supported by the German Academic Exchange Service (DAAD) with funding from the budget of the Federal Foreign Office, Project ID: 57592595. 

For further enquiries, please contact the G-WAC Academic Coordinators via info.gwac@knust.edu.gh or call on 
050 420 8691 / 024 340 9559