CALL FOR APPLICATIONS G-WAC RESEARCH STAY IN GERMANY, 2022
Tue 9 Aug 2022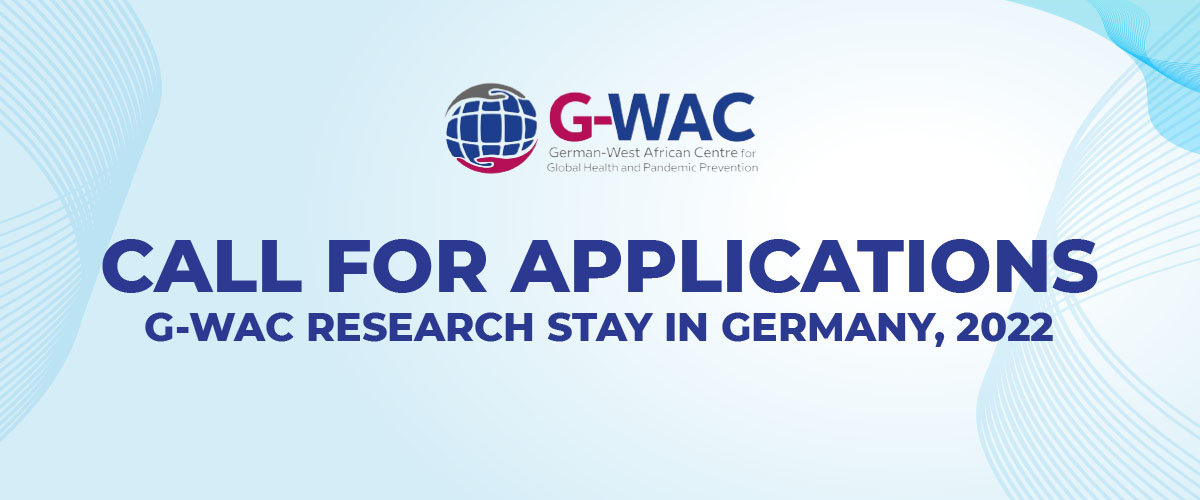 About G-WAC:    
The German-West African Centre (G-WAC) for Global Health and Pandemic Prevention is hosted by the KNUST College of Health Sciences in Kumasi and in collaboration with the Berlin University Alliance (Technische Universität Berlin) and Bonn University, both in Germany. As a Centre of Excellence in the African Region, the aim of G-WAC is to address the existential threat of global pandemics to the health and welfare of people, through trans- and inter-disciplinary research projects. The research activities of G-WAC target both the main drivers of pandemics (e.g. health impact of wild habitat encroachment, extensive agriculture and climate change, transfer of pathogens from wild animals to humans) and the key pillars of resilient health systems in the WHO framework (e.g. effective governance, sustainable financing mechanisms, appropriate human resource capacity, availability of essential medicines and technology, reliable health information, and responsive health service delivery), using One Health approaches.
Eligibility:
Fully completed course work/taught courses (i.e. year 1) of a Masters/PhD programme within any of the following at KNUST: Faculty of Allied Health Sciences, School of Medicine and Dentistry, School of Public Health, and School of Veterinary Medicine
Evidence of good academic performance with no outstanding trails
Demonstrated capacity to conduct independent scientific research
Commitment to spending 3 months in Germany
Schedule:
Application deadline: 16th August 2022
Start date: 1st October 2022
 
Application Process:
Interested applicants should submit a letter of Motivation, 2-page CV, and thesis proposal (no more than 5 pages) via the online portal: https://bit.ly/gwacstay
Funding:
From the German Federal Foreign Office (AA) through the German Academic Exchange Service (DAAD) Global Centres and covers only travel costs and monthly stipends.
 
Contact: info@g-wac.org or 032 219 2173  (8am – 5pm, Mon – Fri)
Female applicants are strongly encouraged