FACULTY OF ALLIED HEALTH SCIENCES DRESS CODE POLICY FOR STUDENTS
Mon 21 Feb 2022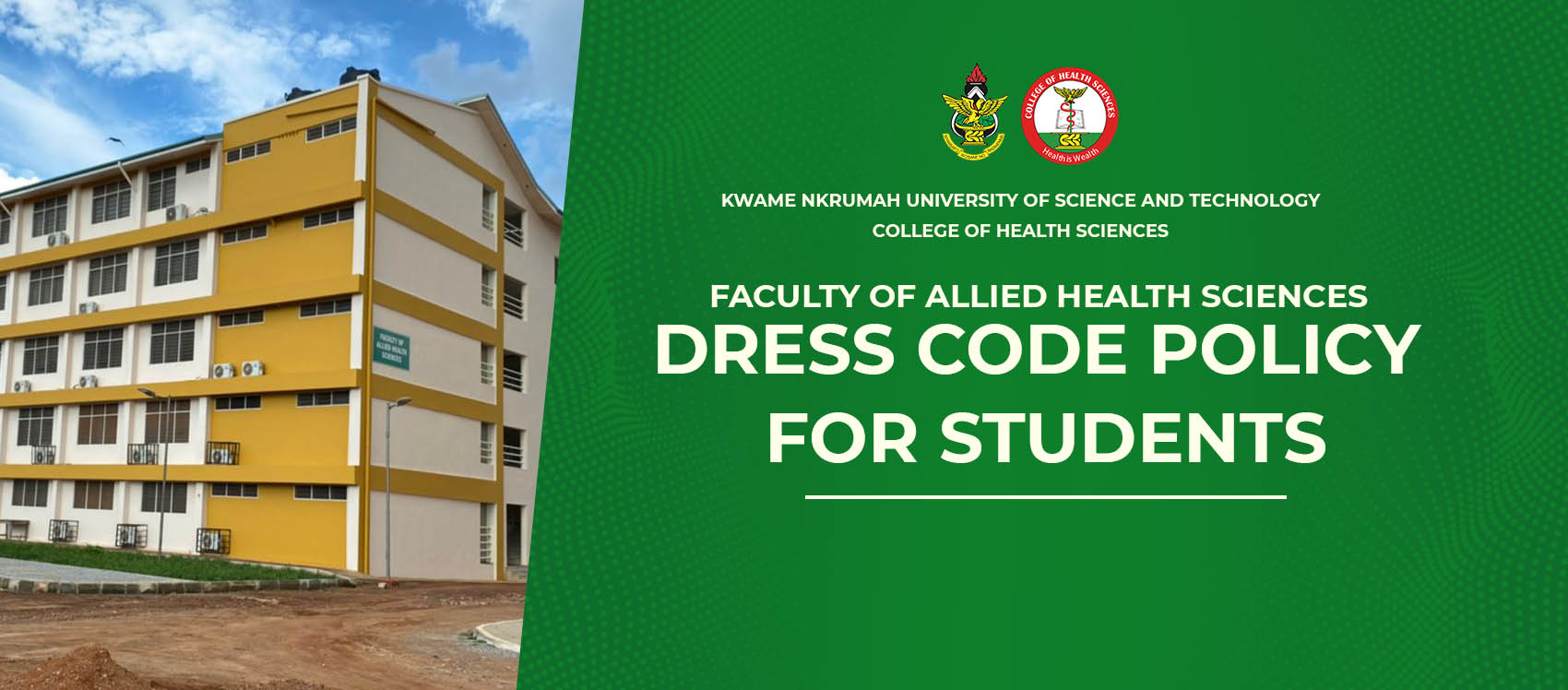 Students are expected to dress in a PROFESSIONAL manner at all times.  The importance of personal appearance must not be underestimated as the image of the University, the College, the Faculty and the various professions is reflected, in part, by its student body.
The dress code policy must be adhered to AT ALL TIMES because it ensures:
The SAFETY  of your patients, other health professionals and yourself
EFFECTIVE COMMUNICATION with your patients, other health professionals and yourself
Observance of CULTURAL SENSITIVITY
All students must maintain good personal hygiene. These measures include regular bathing and dental hygiene to maintain a neat and clean appearance.
A clean WHITE laboratory coat is required for all laboratory sessions
 Students should dress appropriately for lectures, tutorials, when using the library and reading rooms, and during university examinations.
Women: Clean, professionally-styled clothing should be worn at all times. Skirts of medium length or tailored trousers.  Clean shoes with non-skid soles and of reasonable low heel height should be worn
Men: Clean, professionally-styled clothing including a tailored shirt with a collar. Clean shoes with non-skid soles and of reasonable heel height should be worn.  Socks are required.
DOS AND DON'TS
Students must not wear a dress that exposes their midriff, chest, thigh or show any visible cleavage or undergarment including waist beads, especially when they are seated
Students must not wear transparent clothes
Clothes worn by students must not bear any vulgar, offensive or obscene inscriptions or prints
Students' hair should always be neat, clean and presentable. No fancy-looking haircuts
Beards & moustaches must always be neatly trimmed 
Shoulder length hair must be neatly secured
No fancy hair colours like purple,  blue, gold, etc are allowed. Black or brown coloured hair is acceptable.
Fingernails must be well-groomed and of short to medium length, muted tones of nail polish may be used.
Students are not allowed to wear artificial nails.
Earrings should be of small or medium size. Limit the size/number of earrings worn (i.e. one set of earrings) if ears are pierced multiple times.
No jewellery in pierced noses or other exposed body areas is permitted.
 Light-scented cologne or aftershave is permitted. Cosmetics should be used in moderation.
Clean athletic shoes are allowed
If a Hijab must be worn, it should be to the shoulder level
No wristwatches, wrist bands, bracelets or sunglasses are allowed in the examination hall
Clean and tidy jeans trousers and skirts are allowed. They should not be faded, shredded …..or tattered jeans.
FAHS STUDENTS WHO DRESS INAPPROPRIATELY WILL BE DISCIPLINED ACCORDINGLY