GEMx STUDENT EXCHANGE PROGRAMME
Mon 7 Jun 2021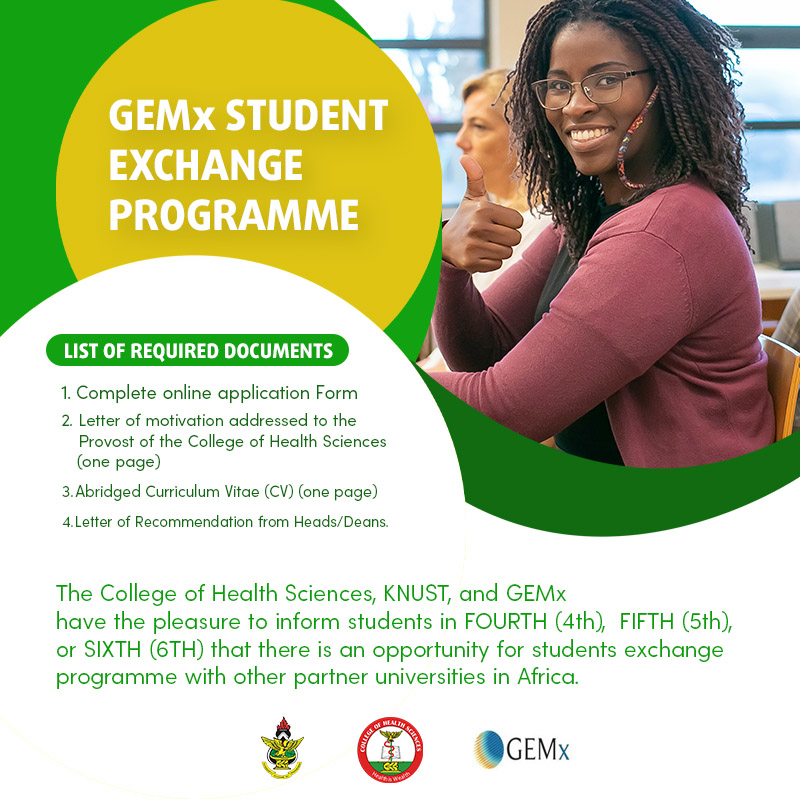 GEMx is a global partnership for educational exchange in medicine and the health professions. GEMx partners with individual medical schools, health organizations, and training institutions around the world to form the GEMx Global Network, as well as with established regional networks in Africa and Southeast Asia.
GEMx partners share a commitment to internationalizing medical and health professions education and to making international exchange an important part of their education programmes. Together with its partners, GEMx works to advance international exchange and to provide the world's future physicians and health care workers with increased access to international elective exchange opportunities―including clinical electives, research electives, and observerships. GEMx encourages integration of health professionals working together in the management of patients.
The College of Health Sciences has the vision to be an internationally recognized premier center of excellence in teaching, research, and entrepreneurial training in medical, pharmaceutical, and biomedical sciences in Ghana and Africa, producing high caliber health professionals and medical scientists to support the sustainable development of the health sector and industry in Ghana and the rest of Africa. The College also has the mission to provide an environment for community–based professional training, research, and support for health care delivery in Ghana and Africa.
The College of Health Sciences, KNUST, and GEMx have the pleasure to inform students in FOURTH (4th), FIFTH (5th), or SIXTH (6TH) that there is an opportunity for students exchange programme with other partner universities in Africa.
CRITERIA FOR STUDENTS' SELECTION
Students in their 4th, 5th, or 6TH years in their clinical rotational for the academic year.

Students who have great interest in undertaking an elective program.

Students must dedicate an hour or two to the programme a week for the duration of the program.

Interested students must fill an application and endorsed by the Head of Department.

Students who apply will go through an interview process to be selected to participate.

Candidates agree to provide needed information to GEMx and attend an orientation session.

Students must be internet savvy.
LIST OF REQUIRED DOCUMENTS
Complete online application Form

Letter of motivation addressed to the Provost of the College of Health Sciences (one page)

Abridged Curriculum Vitae (CV) (one page)

Letter of Recommendation from Heads/Deans.
Completed application and motivation letters should be sent to the following email address: CareerDevelopmentCentre.CHS@gmail.com  by 13th June 2021.
SELECTION PROCESS
Applications will be subjected to review

Selected students will be contacted through email for an interview

Selected students after the interview will be contacted through email.
For more information on GEMx student can visit: https://www.gemxelectives.org/