Pharmacy Practice in a Pandemic
Fri 23 Apr 2021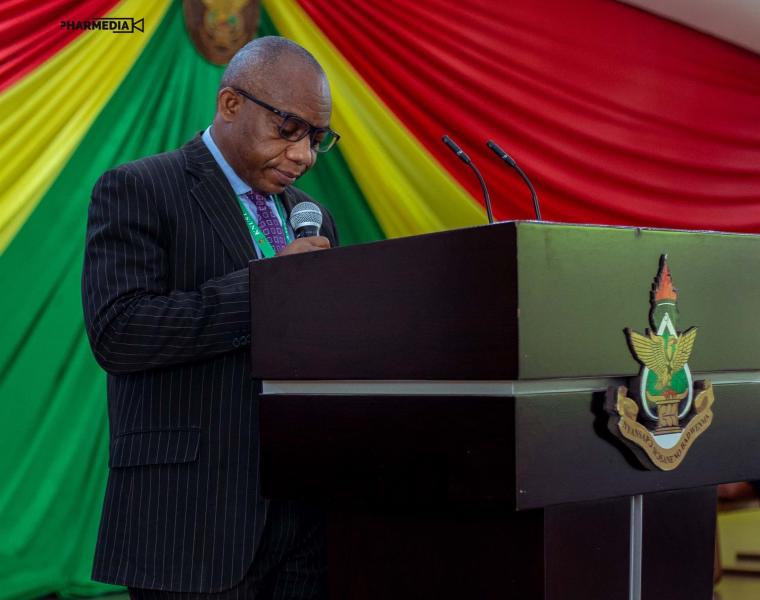 SPEECH DELIVERED BY PROVOST DURING WHITE COAT CEREMONY ON FRIDAY, 26TH MARCH 2021
Introduction
I am very happy and delighted to be invited as a Provost of the College to be part of this Ceremony. But also as a Faculty Member and a Guardian too. I congratulate you my students for being part of this ceremony.
Making the transition from a pharmacy school to the clinical setting may be met with palpable challenges and uncertainties. However, such burdens will be lessened with the guidance and tutelage of seasoned and well-trained preceptors you will mostly encounter. While you may be introduced to the concept of emergency preparedness in pharmacy school and throughout your internship, nothing can fully prepare a new practitioner or intern for the experience of being involved in management of a crisis such as COVID-19 pandemic.
Professor Chair, within the pharmacy setup, it is crucial to quickly establish daily calls with operations, clinical and procurement teams across the healthcare system to share information and take decisions. Being included in decision-making processes can provide pharmacists and interns the opportunity to take the lead on many initiatives and apply the necessary skill sets acquired to real-life practice.
The lockdown period underscored the potential for pharmacists to take a wider role in primary healthcare delivery across the country. For pharmacists to play a bigger role in the healthcare ecosystem, we need to find out how we can immerse our knowledge and skills into it. This calls for broader discussion on extra work that can be defined and whether there should be the need for pharmacists to develop themselves or build the necessary capacities and skills to manage them.
Professor Chair, given the overall anxiety of caring for patients with COVID-19, it is pivotal to lead by example within the pharmaceutical care and service delivery enclave. Also, it is important to accentuate the mentality that no job is too small and every role is valuable in keeping the department or the team running. This sense of teamwork can make an immeasurable difference, and it can be of a massive help when morale is low. Creating space for staff in the healthcare team to voice their concerns without intimidation and acceptance of new strategies, innovations, and creativity helps everybody cope effectively with the "new normal".
Pharmacists must also adjust their practices to meet patient care demands, including practices and strategies to ensure rational, safe and effective medication use. It is very critical to establish a solid action plan. However, it is relevant to remember that alternate strategies may be required if systems to curb inappropriate drug utilization are not adequate. The first step to address this challenge is to create a priority list of medications commonly used in treatment and management of patients with COVID-19.
Professor Chairman, as the operational and clinical workflows quickly transform in response to a pandemic, it is prudent that the informatic systems used within the institution are updated to reflect the most up-to-date treatment protocols. These changes are required so that patient safety is not compromised and this can be achieved through active and timely communication and teamwork among the healthcare team including pharmacy, informatics technology, medicine, and nursing teams.
Professor Chair, there should be a call for improved relationship among all key players in the health service delivery system. This will go a long way to appreciate each other's role and enhance closer working relationship when it comes to provision of vaccination services to the populace with the involvement of Pharmacists and other practitioners in the exercise. Collaboration rather than competition is key in the battle with the pandemic.
Challenges
Medication shortages during the COVID-19 pandemic is a growing problem in the healthcare system that is expected to worsen before it improves. Shortages of medicines were or are basically being felt because of two unique scenarios driven by this unprecedented global situation. The first is the sudden, rapid influx of patients with COVID-19 symptoms into the healthcare facilities. The second scenario is the disruption to the global supply chain resulting from decreased or suspended medication and medical equipment exports from manufacturing locations or sites.
Professor Chairman, like most healthcare providers, the usual pharmacy workflow and operations have been greatly impacted by the response to COVID-19. Redeployment of healthcare personnel to new areas and specialty of care may introduce safety risks due to unfamiliarity with workflows and processes.
With a treatment landscape that is rapidly changing as more evidence becomes available, it is critical for service providers and health personnel to remain aware of the latest guidance – particularly recommendations against the use of treatments due to potential safety concerns.
In conclusion, I strongly believe your training in this august institution and affiliated health facilities will develop your skill sets such as clinical knowledge, communication, active listening, teamwork, decision-making etc. You should be confident in your training and never overlook your mentor's network. By doing so, you can establish yourselves as essential members of the emergency response team for this pandemic by following the chain of command.
I appreciate all the lecturers, teaching assistants, demonstrators, technicians and other support staff who are involved in your training.
Once again, congratulations to you, my students for achieving this height.
Thank you.