Ethnomedicine Needs Greater Attention, Professor Christian Agyare
Wed 29 Mar 2023 CHS News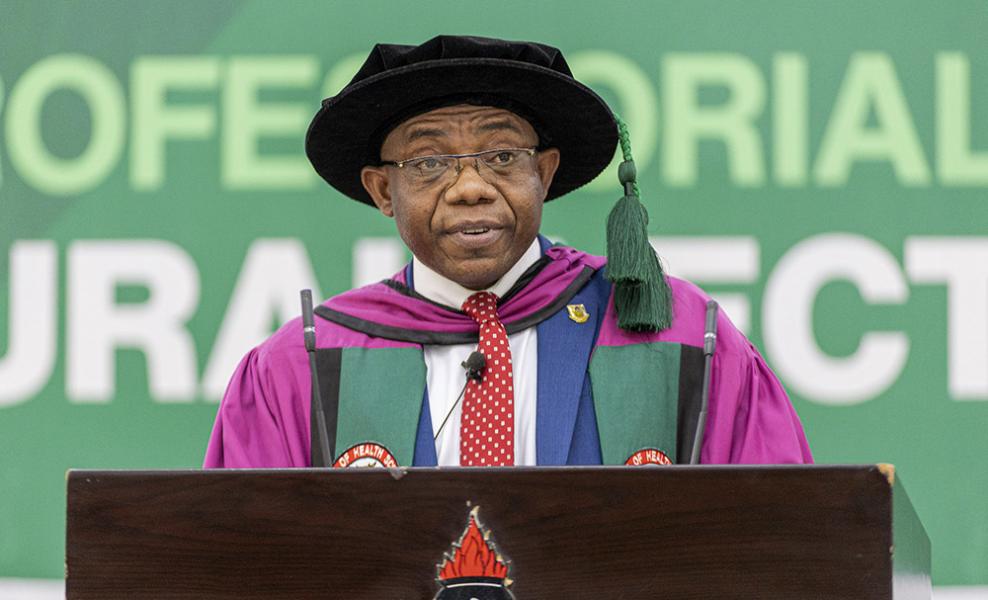 The Provost of the College of Health Sciences (CHS), Professor Christian Agyare, has called on individuals, researchers, healthcare regulators, health professionals, and policymakers to have a strategic look at the role of ethnomedicine in healthcare delivery.
Professor Christian Agyare made the call at his Professorial Inaugural Lecture on the theme: "Treating Non-Curable Infectious Diseases and Wounds with Natural Knowledge and Products: The Relevance of Ethnopharmacological Studies." The lecture which was organised by the Public Lectures Committee of the Kwame Nkrumah University of Science and Technology (KNUST), Kumasi, was under the distinguished chairmanship of the Vice-Chancellor, Professor (Mrs.) Rita Akosua Dickson.
According to Professor Agyare, plants, and plant products or phytochemicals have been ordained for healing since creation. Their rational application can be key in the management of man's infirmities. Plants, therefore, hold a place in our fight against infections and the antimicrobial resistance (AMR) menace.
The World Health Organization (WHO) has reported that over 80% of the world's population relies on traditional medicines for their primary healthcare needs, including the treatment of infections. This, therefore, underpinned our rigorous effort at investigating the anti-infective properties of medicinal plants, with the aim of isolating and characterising anti-infective compounds that may be new to science, for further pharmacological development as therapies. 
Delivering his professorial inaugural lecture, he revealed his research interest; focused on the search for anti-infectives, anti-inflammatory, anti-parasitic, and wound healing agents from natural products. The focus on medicinal plants was because infections were considered prevalent in Africa as well as wounds with neglected or limited treatment options.
With the abundance of diverse medicinal plants in Ghana, availability of traditional knowledge in the treatment of diseases, and effective research collaborations, his research career has yielded a portfolio containing records for scientific validation for the traditional uses of several medicinal plants, isolation of some biologically active antibacterial, antiviral, antiparasitic compounds, elucidation of sources of anti-microbial resistance and overcoming antimicrobial resistance through anti-microbial resistance modulation studies using ethnomedicine. The search for natural remedies for the treatment and management of some cancers was not left out in his research work, He added.
The pharmacy professor underscored the relevance of his research works saying looking at ethnomedicine and natural product drug discovery and the enormous benefit it has and the potential benefit on the scientific, immediate community, and intellectual class, as well as the wider society of the lecture, is important. This is because it showcases the contribution of ethnopharmacological studies towards overcoming the burden of non-curable infectious diseases and meeting SDG 3, which is good health and well-being.
He continued that ethnomedicine holds potential in the fight against communicable and non-communicable diseases. To this end, he has spent a lot of time and part of his research career exploring the best ways the metabolites or chemical arsenals from medicinal plants can be used and developed as alternative therapies for infectious diseases, wounds, and inflammations. This has been done with a clear understanding of the potential benefits of ethnomedicine in the global fight against 'stubborn bugs', among others.
In 2018, the global market size for wound care was valued at US$ 18.4 billion and it is expected to grow at a compound annual growth rate of 3.9% from 2019 to 2026.  which depicts the importance of a systematic drug discovery effort to provide solutions for this public health concern.
According to Professor Agyare, compared with libraries of synthetic substances, it is believed that natural products can offer the prospect of discovering a greater number of compounds that are beneficial to mankind. He revealed that some families of plants that have produced potential therapeutic benefits include "phyllanthaceae, Solanaceae, euphorbiaceae, urticaceae, combretaceae, and rutaceae".
Scientific credence has been given to the folkloric use of some of these plants in the management of acute and chronic wounds. Some key findings on the flora across the length and breadth of the country have identified the benefits of Bridelia micrantha, Physalis angulata, Phyllanthus muellerianus (local Asante-Twi name: 'Awobε'), Hilleria latifolia ('Anafranku'), Laportea ovalifolia ('Akyekyewonsa'), Combretum mucronatum and Mallotus oppositifolia ('Nyanyafurowa/Pimpim') as potential wound healing plants. Other plants with established wound-healing potential are the diverse flora from the Bosomtwi-Atwima-Kwanwoma area of the Ashanti region. Others were Phyllanthus muellerianus, Pycnanthus angolensis and Combretum smeathmanni.
Taken together, the established wound-healing properties of plants from various families of flora found across the country are a key milestone for further research and development of alternative therapies for chronic and acute wounds affecting people of all ages. On cancer treatment, he was of the view that drawbacks as well as the 'some-how' failure of modern medicine in the effective treatments of numerous cancers have contributed to the renaissance of traditional medicine as a potential therapeutic option. Currently, approximately 60% of anticancer agents are natural products, with medicinal plants bearing a significant fraction of these sources of natural products.
Considering the benefits of plant medicine, he called for policy formulation to incorporate some standardized herbal creams/ointments in wound management as part of the essential medicines list in our healthcare facilities. This will be a welcoming addition to the existing treatment options highlighted in our treatment guidelines and may offer a financially competitive edge over existing orthodox options.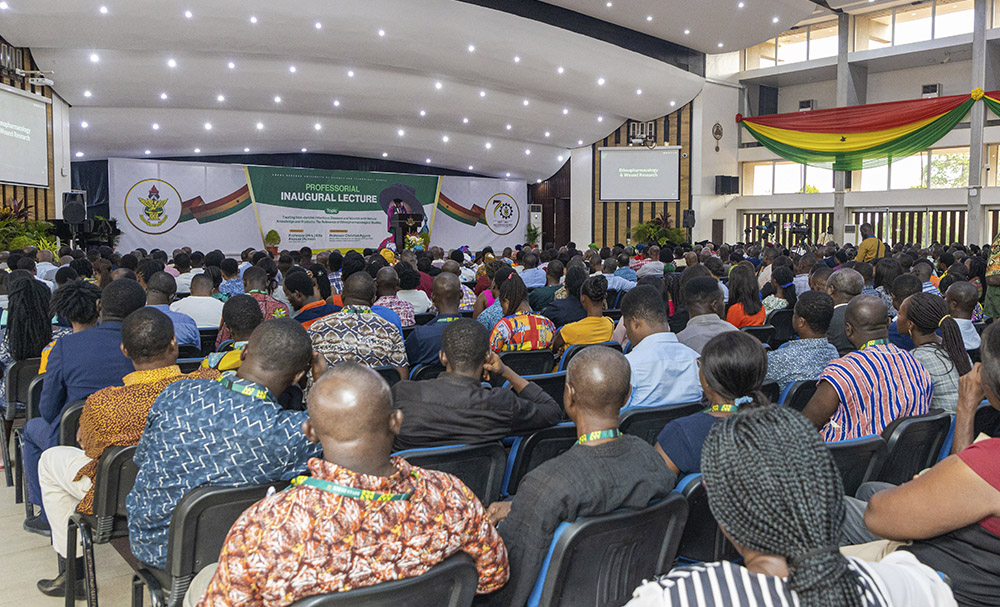 On the way forward, he said that plants and other natural products must be accepted and extensively researched because they do provide some hope in lowering antibiotic resistance and infectious disorders that cannot be cured.
He advocated for vigorous public education since we are aware of the risks related to the unrestricted use of medications (natural or conventional) in the treatment of infections. He erred on the side of caution in this. Additionally, he asked regulators, prescribers, pharmacies, and dispensary outlets to work together to strictly limit access to antimicrobial drugs that may save humanity from microbial catastrophe.
Ending the lecture, he strongly believed Ghana needs to have a well-defined policy direction and intensify the antimicrobial stewardship agenda. He called on regulatory bodies to intensify surveillance to ensure that antimicrobial products on the market are of the required standard and are properly handled, prescribed, and used by all relevant stakeholders including the Food and Drugs Authority of Ghana (FDA-Ghana), Pharmacy Council, Pharmaceutical Manufacturers, and Importers, Distributors, Clinicians, Prescribers, Pharmacists, and Technicians.
Given the importance of the occasion, the Registrar, Mr. Andrews Kwasi Boateng, stated that inaugural lectures are one of the most prestigious traditions in top universities and signify a significant milestone in the  career of academics. According to Mr. Boateng, the occasion gives them official recognition for being promoted to the level of full professor. Also, inaugural lectures provide a unique chance for recently hired academics to introduce themselves and give the academic community a summary of their research accomplishments in their chosen fields. It provides a stage for newly appointed academics to showcase their academic successes in front of co-workers, family, friends, mentors, mentees, and the community.