US Ambassador Sullivan Visits CHS
Tue 27 Apr 2021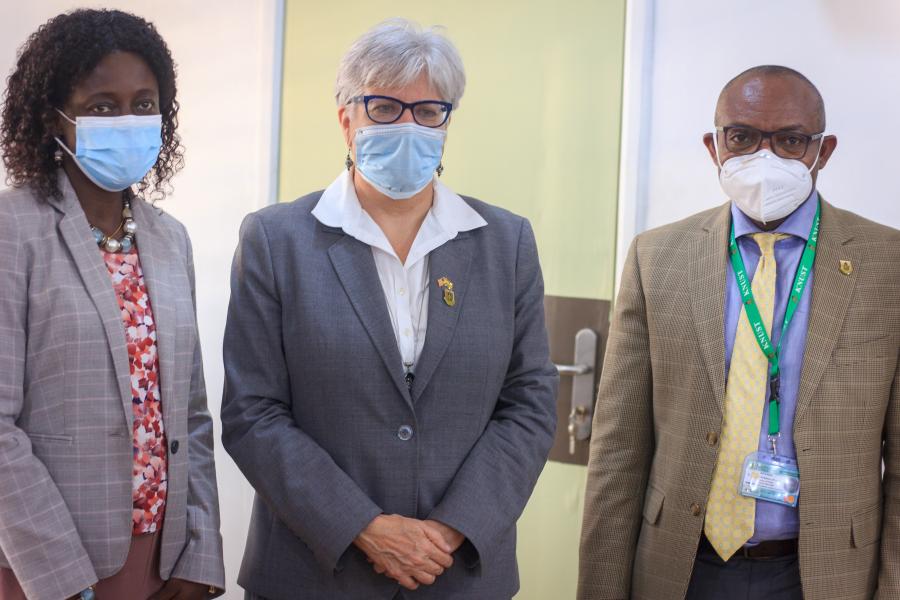 The Provost of the College, Prof. Christian Agyare, expressed his exhilaration for the kind gesture conferred on the College by the visit of the United States Ambassador to Ghana. In so doing, he welcomed the United States Ambassador and her Team to the College; and likewise, introduced Colleagues present at the function.
The Ambassador in her appreciation, also uttered complete excitement for the opportunity to meet such intellectual ingenuity. She emphasized the willingness of the United States in supporting such projects considering its objectives and intended goals.
As the Officer in charge of the College, Prof. Agyare took members through a brief history of the College. Accordingly, he indicated that the College was established in the year 2005. Currently, it has two (2) Faculties (Pharmacy and Pharmaceutical Sciences; and Allied Health Sciences), three Schools (Medicine and Dentistry; Public Health and Veterinary Medicine) and a Research Center (Kumasi Center for Collaborative Research, KCCR). In a brief, the College has produced proficient and phenomenal specialists in health sciences coupled with championing top-notch research experiences. Indeed, the College of Health Sciences, is the only College in KNUST with outstanding awards for multidisciplinary research, etc. He concluded by asserting that, despite its numerous feats, the College is on its quest to revamp and achieve more through research.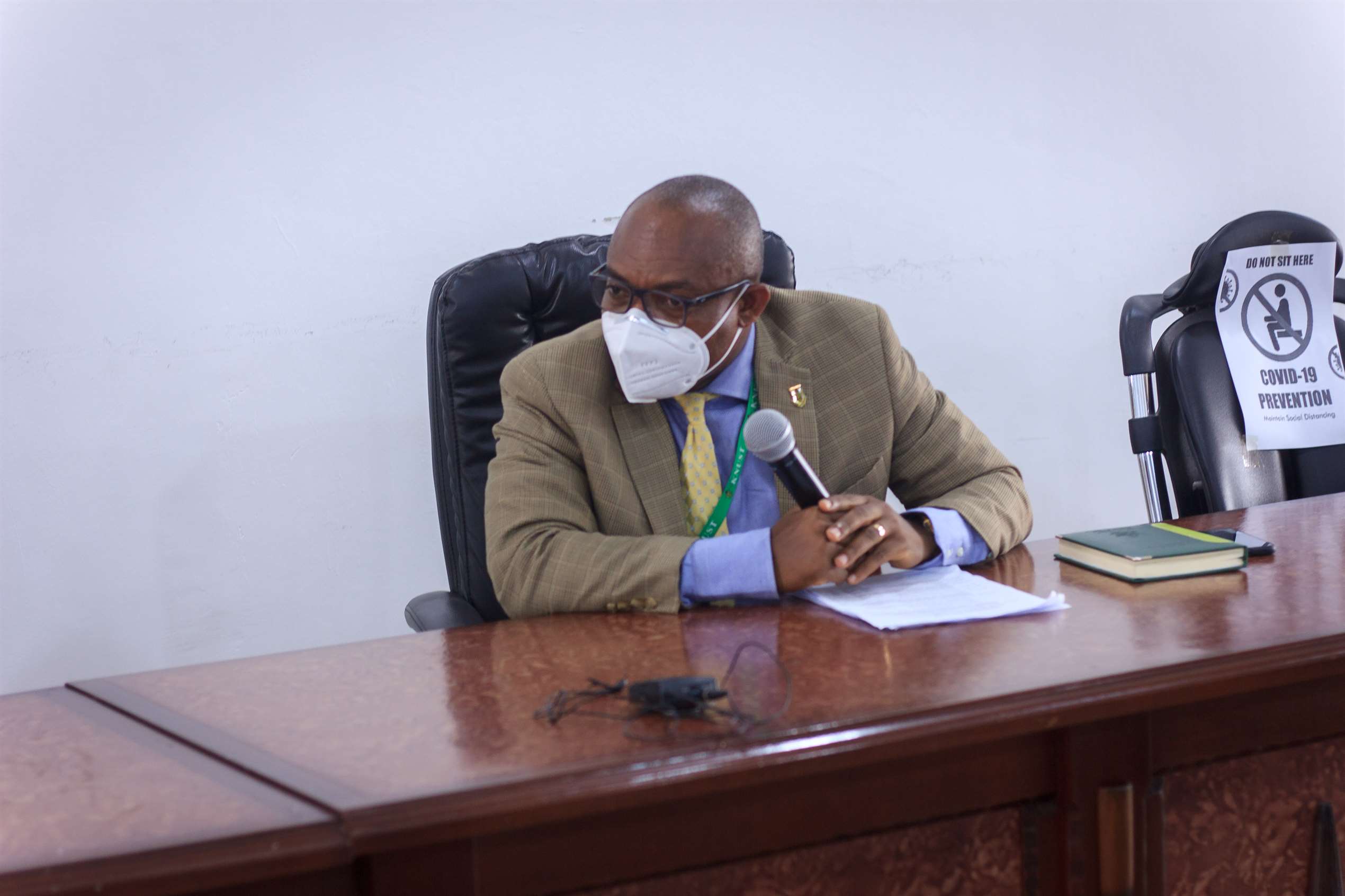 PRESENTATION OF WAT-RT
The PEER Award recipient, Prof. (Mrs.) Veronica Millicent Dzomeku was invited to give a presentation on the "Community and Hospital-based WhatsApp Triage, Referral and Transfer (WAT-RT)" System.
In her presentation, she posited that the key problem of maternal healthcare leading to this project is that more women are dying during childbirth. Comparatively, statistics indicate that, Maternal Mortality Ratio (MMR) in Low Middle Income Countries (LMICs) are high as compared to the Developed economies. For example, in 2017, MMR in Ghana and Liberia stood at 308 and 1,072 per 100, 000 live births, respectively.
This menace is attributed to factors such as weak health systems; lack/absence of standard triage systems for obstetrics emergencies; social and economic inequalities etc. With the aforementioned problem, it is anticipated that the WAT-RT system will enhance Maternal Healthcare by linking Community-based Health Planning and Services (CHPS) facilities in the rural outskirts to the Referral Centres. Thus, WAT-RT System will provide the continuum of the healthcare team, the tools to implement proper and timely triaging of obstetrics emergencies, both before and after arrival at the hospital.
This can be done through the following strategic objectives and indicators:
Strategic Objective 1:  Increase timely care seeking along the referral pathway for pregnant women through implementation of the WAT-RT system between first-line community health workers, rural health facility midwives, and district hospital staff.
Indicator 1.1: Recognition of referral indicators at the community level using the WAT-RT System.
Indicator 1.2: Appropriateness of decision making for referral indicators. Audit review of WhatsApp case log transcripts.
Strategic Objective 2:  Reduce wait time and delay upon arrival through the WAT-RT system to prepare the receiving facility for an obstetric emergency.
Indicator 2.1: Time to referral from rural clinic to referral hospital.
Indicator 2.2: Time from arrival at referral hospital to evaluation.
Strategic Objective 3:  Establish a hospital-based triage system with low, medium, and high urgency classifications to stratify care based on risk and imminence of delivery.
Indicator 3.1: Number and types of obstetrics emergencies identified using the low, medium, high classifications.
Indicator 3.2: Appropriateness of patient diagnosis and treatment plan upon arrival at referral hospital. Audit review of patient records. 
Strategic Objective 4: Improvement of quality and experience of care.
Indicator 4.1: Satisfaction with the WAT-RT System by all stakeholders including CHWs, midwives, nurses, physicians, and local Ministry of Health officers.
Indicator 4.2: Satisfaction with women who delivered at the Referral Hospital before and after the implementation of the WAT-RT System.
Presently, the project is intended for the Bono Region, specifically, Sini East and West. Going forward, there will be a scale-up of the programme to the national level.