Faculty of Pharmacy and Pharmaceutical Sciences makes donation worth 85,050ghc to 12 clinical teaching sites
Mon 13 Jun 2022 CHS News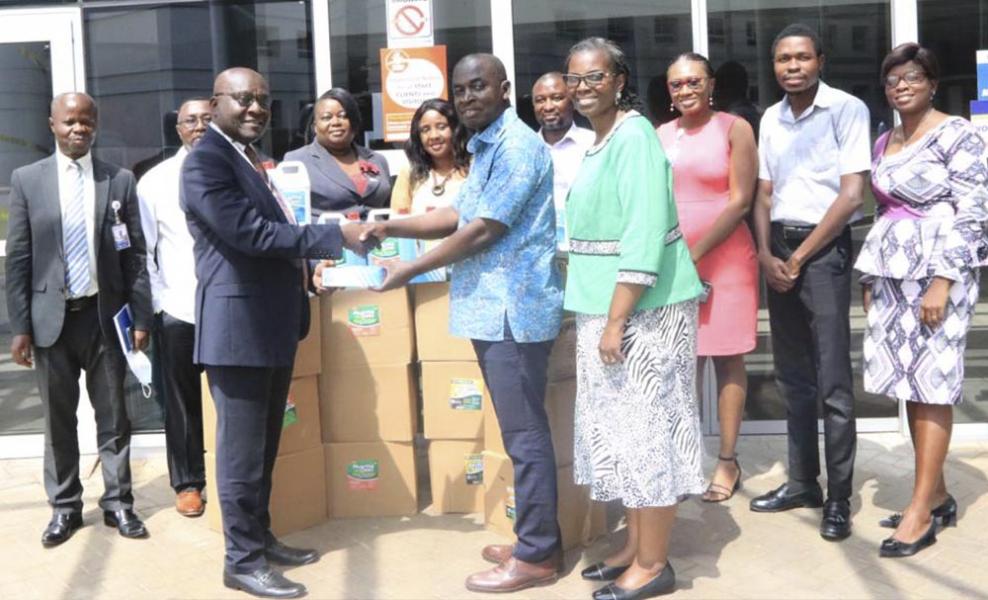 The Faculty of Pharmacy and Pharmaceutical Sciences (FPPS), KNUST on their regular visit to affiliated clinical teaching sites have donated gloves, antibacterial hand wash, Multipurpose cleaning soap, and some Sanitizers worth 85,050ghc to 12 clinical teaching sites across the country. The donated items with exception of the gloves are produced by the Faculty of Pharmacy's Production Unit.
Prof Anto Panyin Berko, the Dean of the Faculty of Pharmacy and Pharmaceutical Sciences (FPPS), and the Experiential training coordinator Dr. (Mrs) Mercy Naa Aduele Opare-Addo paid a working visit to the 12 clinical teaching sites outside the Ashanti region that help in the Faculty's Advanced Pharmacy Practice Experiences (APPEs) between 11th and 27th of May, 2022. This was to monitor and interact with the students and their preceptors.
Prof. Anto Berko Panyin (Dean, FPPS) and Dr. Mercy Naa Aduele Opare-Addo with students from Korle Bu Teaching Hospital
The teaching sites that benefited from the donation are; Bono Regional Hospital – Sunyani, Tamale Teaching Hospital,  Cape-coast Teaching Hospital, Effia Nkwanta Regional Hospital – Takoradi, Ho Teaching Hospital, Tema General Hospital, Pantang Hospital, 37 Military Hospital, Greater Accra Regional Hospital ( Ridge), Police Hospital, University of Ghana Medical Centre and Korle-bu Teaching Hospital.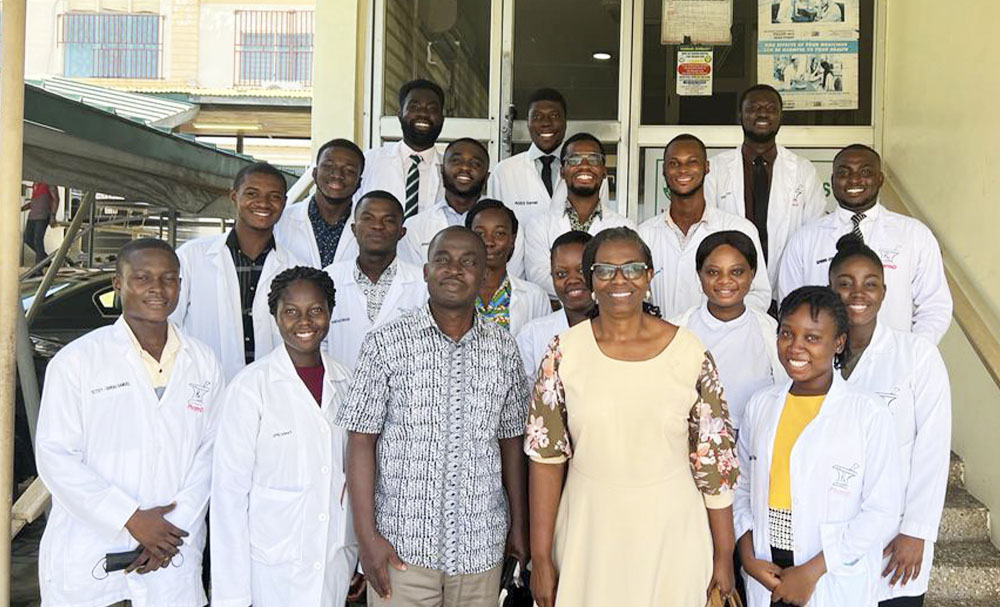 The Faculty of Pharmacy and Pharmaceutical Sciences runs two flagship programmes; 4 year Bsc Herbal Medicine and 6 year Doctor of Pharmacy programmes. The Doctor of Pharmacy programme has an integrated experiential training component that is started right from the first year through to the sixth year. In the sixth year the students undergo Advanced Pharmacy Practice Experiences (APPE) as the final component of the Doctor of Pharmacy programme. APPEs, are obtained at College of Health Sciences accredited sites throughout the country.
Student pharmacists apply knowledge acquired in the basic sciences, pathophysiology, therapeutics, and social pharmacy to gain professional competence, skills and confidence by delivering contemporary pharmaceutical care and completing other profession-related experiences under the supervision of preceptors.  Students are required to complete 6 six-week rotations in 6 disciplines namely Internal Medicine, Obstetrics and Gynaecology, Surgery, Accident and Emergency, Child Health and one elective (Mental Health, Oncology and Dental, Eye, Ear  and Nose and Throat.) The faculty has 19 APPE sites for both regular and top-up final year students across Ghana.