Professor Victoria Bubunyo Bam, elected President of Ghana College of Nurses And Midwives
Mon 28 Nov 2022 CHS News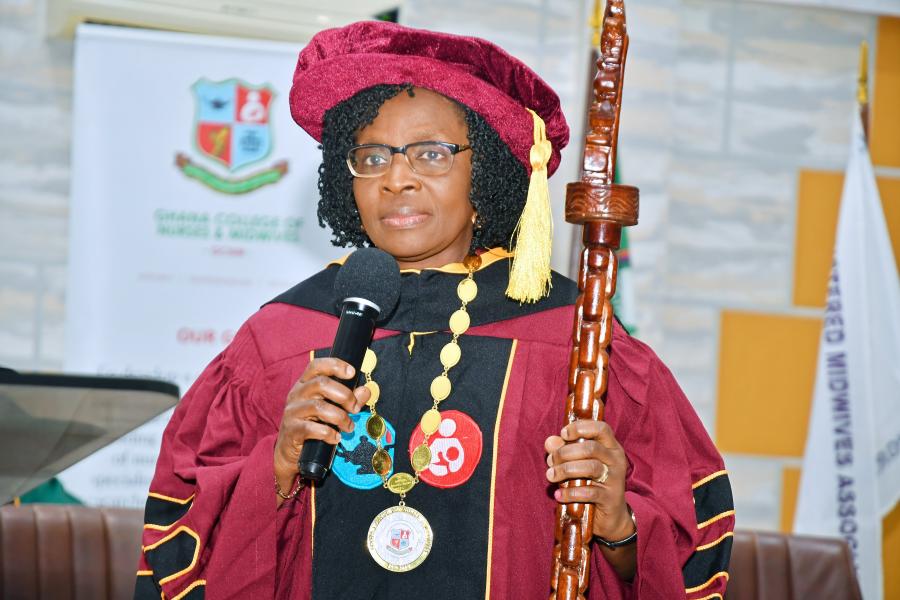 Professor Mrs. Victoria Bubunyo Bam of the Faculty of Allied Health Sciences, KNUST has been elected as the 3rd President of Ghana College of Nurses and Midwives at their 7th Annual General Meeting and 4th Seminar which took place on the 12th October 2022.
At a colourful induction ceremony, Prof. Mrs. Bam promised to work with Fellows and the administrative staff of the College to build on the achievements of her predecessors. She promised that during her tenure she will work with all key stakeholders to achieve excellence and professionalism and help project the College among nurses and midwives in Ghana and beyond.
Prof Mrs. Victoria Bam is an Associate Professor at the Department of Nursing and the Vice Dean of the Faculty of Allied Health Sciences, at Kwame Nkrumah University of Science and Technology, Kumasi, Ghana. She serves in various leadership roles in academia and the professional body and is a mentor to many nurses and midwives. She had her undergraduate training in Nursing, at the School of Nursing and Midwifery, University of Ghana, Legon, her graduate studies were in Health Services Planning and Management at KNUST and her PhD. studies in Community Health was a split programme between KNUST and DBL-Institute for Health Research and Development, University of Copenhagen, Denmark. 

She practiced as a professional nurse and midwife at the Korle-Bu and Komfo Anokye Teaching Hospitals in Ghana. She is a pioneer lecturer of the Department of Nursing, KNUST, and was instrumental in the development of the academic programmes of the department. She is a Fulbright Scholar and was at Millikin University, Illinois, USA for the 2019-2020 academic year where she taught Global Health, Community Health Nursing, and Transcultural Nursing. She is a member of the Governing Council of the Africa Forum for Research and Education in Health. She is an external assessor and examiner for a number of universities in Ghana, Africa, and Europe. She is a Foundation Fellow of the Ghana College of Nurses and Midwives and a Fellow of the West African Postgraduate College of Nurses and Midwives.

She has published many scholarly papers to her credit and made presentations at many conferences. She has won several awards in relation to excellence, leadership, service, innovation, and dedication to work.
The Ghana College of Nurses and Midwives (GCNM) is a body corporate with perpetual succession established by the provisions of the SPECIALIST HEALTH TRAINING AND PLANT MEDICINE RESEARCH ACT 2011, PART THREE (ACT 833). Its core mandate is to: Promote specialist education in nursing, midwifery, and related disciplines; Promote continuous professional development in nursing, midwifery, and related disciplines; Promote postgraduate nursing, midwifery, and related disciplines for the College; Contribute to the formulation of policies to improve health outcomes and public health as a whole.