SMD Class of 1982 establishes $1000 award scheme and donates a TV set to Alma mater
Tue 29 Nov 2022 CHS News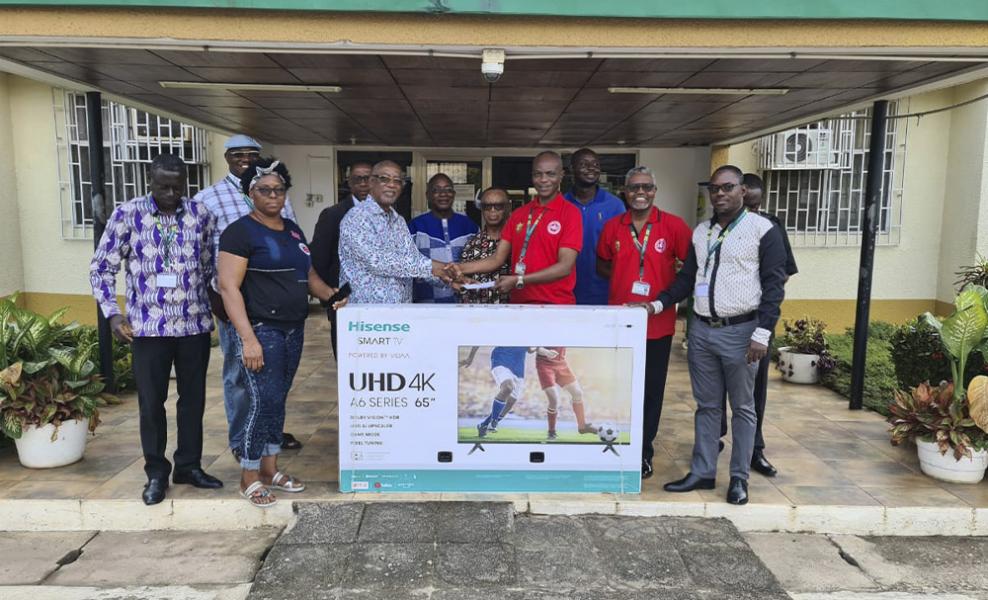 The 1982 Class of the Kwame Nkrumah University of Science and Technology(KNUST) School of Medicine and Dentistry (SMD) has donated a 55 inches Smart Digital Television and a cash prize of $1000 in honour of the late Professor Hutton Ayikwei Addy for the best students in Community Health on the 11th November 2022 at the SMD Boardroom.
The 1982 year group is the founding class of the KNUST School of Medicine and Dentistry (SMD) and they were represented by Professor Francis Martinson, Dr. Kwabena Effa-Manu, and Dr. George Acquaye. They reflected on how they got enrolled with a class size of twenty-six (26).
Reflecting on their early days in School, they spoke about the courses they studied through the academic years and even having their first dissection at the Tafo Mortuary in their second year. In 1979, only 16 out of the initial 26 students made it to Korle-Bu Teaching Hospital for Clinical sessions. "Ten of the students dropped out for various reasons and the Komfo Anokye Teaching Hospital which is in Kumasi and closer to the KNUST campus wasn't ready for Clinical teaching", they added.
Recounting their formative stages and struggles as the pioneer class of KNUST School of Medicine and Dentistry, they expressed their gratitude to Professor Hutton Ayikwei Addy. He was the founding head of the Community Health Department for his immense support during their days in school. For this reason, the 1982 year group decided to present a $200 cash prize and a medicine-related book worth $150 to the best student in Community Health for the next five (5) years in his honour.
Professor Akwasi Antwi, the Vice Dean of SMD thanked the 1982 year group for sharing their experience and thoughtfully giving back to their alma mater. He also added that the donation will go a long way to help in teaching, learning, and also motivating the students.